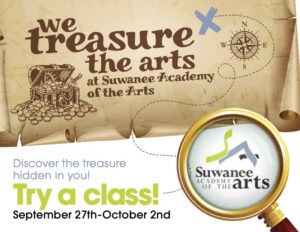 DISCOVER THE TREASURE HIDDEN IN YOU!
Try a class – or invite a friend to try a class – during the week of September 27 through October 2.
Visit the Full Schedule page (click here) to see all of the classes available to try.  Try anything!  The only rule is that the student must meet age/skill level requirements for the class.
Not sure what class to try?  Let us help – we are experts at placing students in the best class for them.  Give us a call during office hours (678.482.6333, Mon – Thur 4:00 pm – 8:30 pm) and we'll help find the perfect class for you!
TO TRY THE CLASS – please bring a completed postcard to the class (copies available at the studio front desk, or download the postcard below) and present it to the Instructor at the beginning of class.