Summers at SAA are bursting with sunshine and sparkles, twirls, and technique! We have weeklong camps for little princess adventures, and Broadway enthusiasts can dive right in and build confidence with our Musical Theater experience!  Summer is also a terrific time to build on your music skills or try a new instrument with a limited commitment of weeks.
NEW THIS SUMMER – Soaring  Arts Camp – reach new heights through Aerial Silks and Acro Arts!
We also give a shout out to Suwanee Ballet's 2021 Summer Dance intensive designed to stretch the dancer, allowing them to explore, discover and embrace who they are. Thank you Suwanee Performing Arts for bringing this quality educational event to our dance community.
ENCHANTED PRINCESS ADVENTURES SUMMER CAMPS
June 6th -10th  and June 20th – 24th; 9:30 am – 12:30 pm; $199 per camper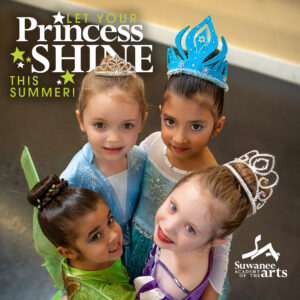 Little Princesses (best for ages 3 – 7)
She won't be able to contain herself as she leaps into your arms at the end of each day with exciting stories of how she had to wake up Sleeping Beauty, learned a new song with Fairy Godmother, or danced under the sea with Ariel and Miss Bernie. This is the age that we capture her imagination and – through the brilliance of play – the artist grows and her confidence builds. Your little princess will surprise you with all of the grace and beauty she can deliver when she shows you what she has learned.
Register Below
BODACIOUS BROADWAY BURGER SUMMER CAMP
June 13th – 17th; 9:00 am – 3:00 pm (extended care option available for an additional fee); $350 per camper **Enroll before June 1st and pay just $297 for this exciting week of camp!**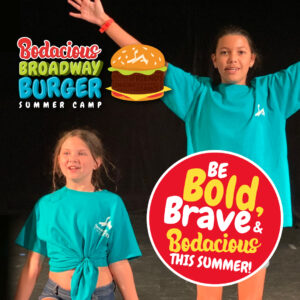 Ages 6 – 12 years old (rising 1st graders and up)
Campers will accept the challenge to be Bold, Brave, and Bodacious as they explore their hidden potential through Singing, Dancing, Acting, Games, and some special sauce!   An "All-Swim" for budding young artists – no experience necessary. Campers will rotate daily between singing, dancing, acting, games, and a surprise session, ending with time on stage. The week concludes with a performance for family and friends.
After Care may be available for campers from 3pm – 6pm.  We need a minimum of 5 campers to enroll in After Care to offer this service (registration link below).  $60 per camper.
Register below
Dates: TBD.  Ages 9 – 14 years.  Price: TBD.
6-Weeks of Private Lessons
Virtual and In-person options. Times and Classes vary. Call the studio to learn more! 
If you are looking to get involved in voice, piano, or guitar, this is your chance! These 6-week lessons are the perfect opportunity to try something new with very little commitment. If you are already involved in lessons, use this to help progress your skills over the summer!
INTENSIVE DANCE CLASSES
SAA offers dance intensives every June, featuring amazing guest instructors.  Classes are designed for experienced dancers that are ready to WORK to perfect their technique.
This summer the intensive sessions will cover Ballet, Jazz, Contemporary,  Progressive Ballet Technique, and SO MUCH MORE!
New to dance?  Join us on Technique Tuesdays for special technique training designed for you.