Below is the schedule for all classes available for the Classical Artist (4th – 7th grade).  Click on the "Register" button next to the class listing when you are ready to enroll (you will be re-directed to the JackRabbit Dance online registration page).
Still not sure?  Don't worry – we have a 14 day/2 class money back guarantee!  Go ahead and register to claim your spot in the class – if you do not absolutely love it after 2 classes (or 14 days), we will happily refund your tuition payments for that class.
Waitlist: If any of our alternative class days and times do not accommodate your schedule, we have a Waitlist option. To join a waitlist for a class that is full, fill out our online waitlist form, complete with payment information. You will be charged a 50% deposit to remain on the waitlist. If a spot opens up or a new class is added, you will be notified before being charged the balance. If a spot does not open up, you will be refunded your deposit.
For a class described as "FORMING" – this class will begin meeting once the minimum number of students have been enrolled.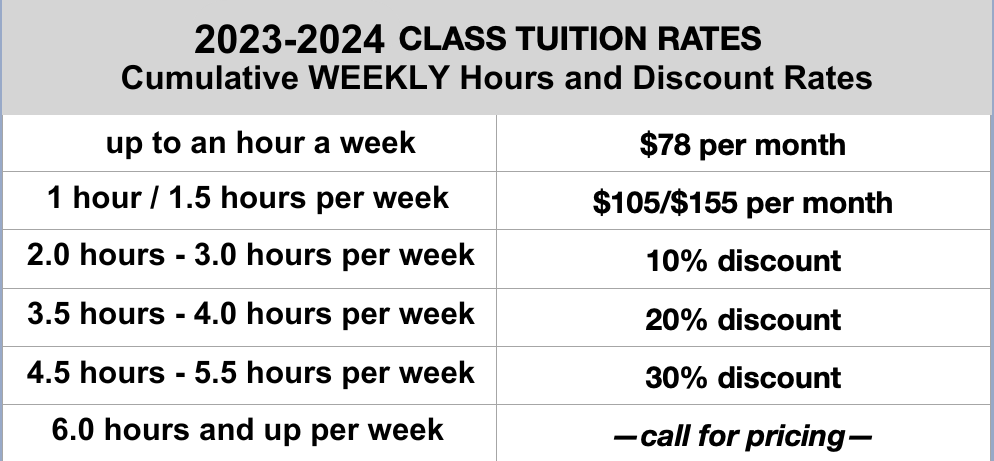 All classes meet weekly throughout the academic year and are billed monthly.
Example: A one-hour, weekly class would cost $105 per month.
Tuition is a flat, monthly, all-inclusive fee. Class uniforms are the only exclusion.
There is no registration fee or additional fees throughout the year–not even for performances!
Our regular instruction session begins in August and ends in May of the following year, with a minimum of 32 classes delivered during the instruction session.
The number of classes per month will vary, as we generally follow the Gwinnett County School Calendar, however your tuition fee will always stay the same.
Discounts are applied based on the cumulative hours a student is in class each week. (EXCLUDES Private Lessons and the A.I.M. Program)