From time to time, SAA offers classes that are outside of our regular curriculum.   It could be a Vocal Workshop with one of our Private Lesson teachers on a Saturday afternoon or a short-term class in a specialized skill.
Please watch this page for new and exciting opportunities at SAA.
SAA is offering 2 aerial silks workshops this year.  Each workshop will be one hour long on Friday evenings for 8 weeks. Classes will be divided by the age of the students, will be limited to 15 students per class, and welcomes all levels of experience.  Class schedules and link to registration below.
AERIAL SLING
The Aerial "Sling"  – or "Hammock"  – is part of the Circus Arts using fabric that is hung from the ceiling. The sling is off the floor, acting like a swing, and is a great place to start to learn elements of the aerial arts.  The aerial sling provides support for the body while building grip, core, and upper body strength.  Aerial sling classes will consist of conditioning to build strength, learning various poses, and sequencing related to the aerial sling.
AERIAL SILKS (TAILS)
Aerial silks is part of circus arts using fabric that is hung from the ceiling so that there are two "tails" to work with.  Aerial silks will incorporate tying knots and wrapping the fabric around the body to create poses in the air and transitioning from pose to pose.  Aerial silks will build upper body strength, core, and flexibility.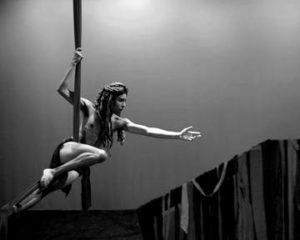 Want to stay informed about the latest special workshops available at SAA?  Join our mailing list to keep up with the news.